[aff_disclosure]
Space crunch has become a regular issue in our lives. And if you are in a field of work that requires you to use dual monitors, then you are in trouble. You need to cramp the entire setup in a small space. If you want to know how, here is the exact guide that will help you to set up your dual monitors on a small desk in a space-efficient way.
How Big Table Should You Get For 2 Monitors?
For 2 monitors you should get a table that has a surface area of 60 inches by 36 inches. However, this depends a lot on the kind of monitors that you will be using protrusion of the base from the screen. Also, with a monitor spine, the actual length of the table needed will be lesser.
However, these are not the only things that need to be considered. If you want to know more, read on…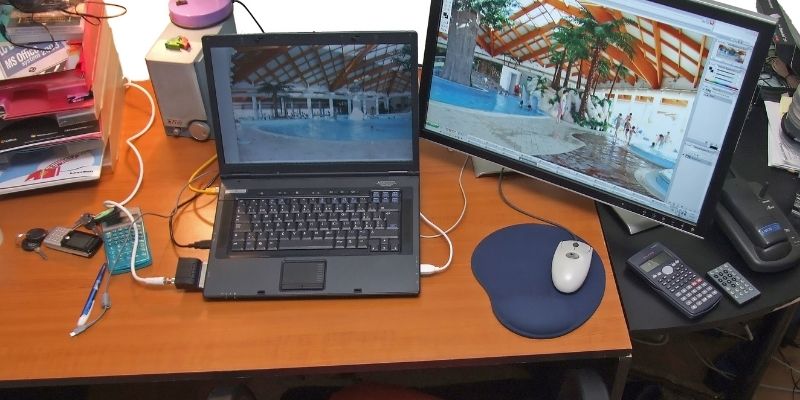 How do you connect two monitors to my small desk?
To connect two monitors on your small desk, you would need a monitor stand/spine with at least two arms.
This way you can fix the spine on the tabletop and mount the monitors on the spine. This will save you a lot of space.
However, if you have a small desk, then I'm assuming that you have a smaller home working space altogether.
If that is the case, then keeping the monitors side by side may not be possible.
You should go for a stacking setup and for that you may not use a full-fledged monitor arm.
Go for a more fixed setup by fixing the monitors on the spine directly and not using an arm at all.
Tips On Dual Display Setup On A Small Desk
Here are some useful tips that you may use when you are setting up your cozy dual-monitor workspace at home.
Use a monitor arm
If you are in dire need of space, then using a monitor arm may be your preference.
This will help you to declutter your workspace and having your monitors right where you need them.
One thing to be cautious about when purchasing the monitor arm.
Check whether that is compatible with your monitors or not. They will typically have a size and weight range that they support.
Use a cable grommet
That may seem not necessary, but it will save you a lot of headache and mess.
All your wires will be bunched up in one place and your monitors can be placed around it.
This way, you will save on the length of the wire as well.
Use a Clamp Mount
If you want to significantly increase the amount of space that is available to you, then use a clamp mount.
Check whether your clamp mount will be able to support the weight of two monitors.
Using the clamp mount will have two monitors right above your desk and provides you with greater flexibility.
Also, it will provide you with more portability also, as you just need to unscrew the clamp to port the entire setup.
Use a V-Shaped Design
V-shape by design uses very little space. If you place your monitors in a V you will have a lot of space in the middle.
Here two setups are possible.
One with the desk placed against the wall at a right angle.
Mount one monitor in the wall and keep the other on the desk.
The other one is to use the design, but placing the monitors on an arm.
How to setup dual monitors on the desk?
Your dual monitor setup on your desk will depend on various factors.
The amount of time you will use these monitors
If you need both the monitors for your work equally, then go for a V-setup. In this setup, the monitors are placed in the shape of a V with the apex away from you and the base near to you. Here you will be sitting in the middle of the V so that you can see both the monitors simultaneously.
If you have one monitor that you use regularly and one monitor you use occasionally, then place that primary monitor in front of you. The second monitor should be kept at an angle of roughly 30 degrees.
Dimensions of the monitors
You should use monitors of approximately of similar directions.
Also, you should place the monitor 2-3 inches above your eye level.
Another important factor with the placement is that you should place the monitor below your eye level if you are wearing specs (for both bifocal or trifocal). This way you will not have to tilt your head up.
Distance from You
You should set the distance of the monitor screens at arms' length. This way you will feel comfortable and will not have to assume an awkward pose to view the monitors.
Also, all of the above setups will work, if you are using a monitor spine with arms.
What is the best size for dual monitors?
The best size for dual monitors is between anything from 24 inches to 32 inches. You can go for bigger sizes if you are placing them on the desk. However, if you are using a spine, the maximum size supported is 32 inches in most cases.
References
Improve your work-at-home computer setup
Davis, K.G., Kotowski, S.E., Daniel, D., Gerding, T., Naylor, J. and Syck, M., 2020. The home office: Ergonomic lessons from the "new normal". Ergonomics in Design, 28(4), pp.4-10.
Related Posts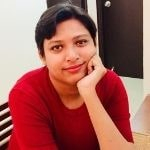 Latest posts by Madhusree Basu
(see all)