Too many decisions and a whole lot of adjustments. How much space do you actually need for your home office? What do you need to consider while allocating space for your home office? If you need the answer to all these questions, then read on…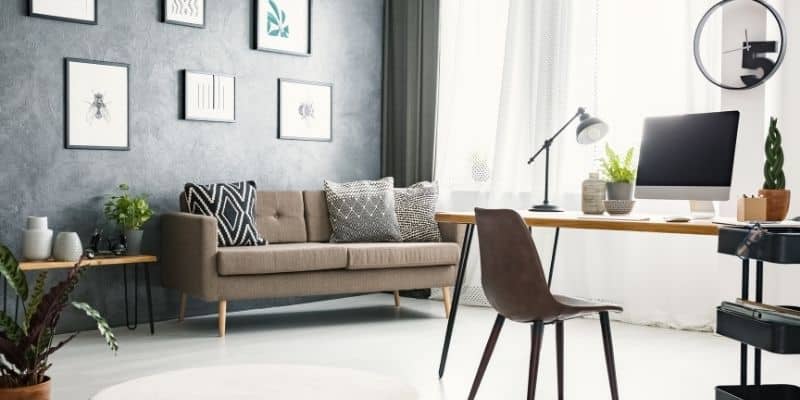 What is a good size for a home office?
A good size for a home office is around 5 feet by 4 feet. This will give you ample space to freely move around without getting obstructed. Also, if that same space will be occupied by multiple members or will have larger equipment like all-in-one printers or heat printing machines, then this space requirement will increase proportionately.
Although the above is just a guideline and will vary widely based on your personal preference and requirements. To know more, just read on…
Deciding the home office size – Key Consideration
When you are deciding to start your own home office or you want to remodel your existing one, you need to consider a lot of things like space, type of furniture, portability, etc…
Below I've described what I did when I was setting up my home office…
Where will be your home office?
When deciding to set up your home office, this is must be your first question.
You have a couple of options available provided you have the required amount of space…
Bedroom
This is a good option as many times you will have the required space available at one end or at one side of the bed.
This is perfect if you only need your laptop or desktop to work with.
However, if you need other equipment like setting up a camera or have a studio setting, then this may become too restrictive of a space.
Living Room
Here also, the requirements are similar to that of your bedroom.
But here you may have more space to play with depending on the amount of space available.
You could scatter your equipment and can have different setups for things like Youtube studio or podcasting stations.
Just keep in mind that, in that case, you may not stick to 5 feet by 4 feet.
However, since the apparatus will be spread across the room you may not feel that you are taking up that much space.
Stair-Case Landing
Depending on the width of your stairs, this may be a small or big space.
Also, this may be a perfect space for your own home office provided it suits your unique office requirement.
However, this is only possible, if you have your own house and don't have to share a common staircase.
Kitchen
The kitchen can be also a decent home office space and the kitchen table generally have sufficient space to accommodate a laptop.
This space is just ready to go and you need not do any alterations.
Also, the kitchen combined with your living room can provide you with the perfect working space without much hassle.
Under Stair Case
Yes, this can also perfectly work if your minimum space requirement is available.
Also, this should not be a common space that you share with others in your building.
So, this option is excellent, if you own a house.
Private Room
This is the most perfect setting that you will have.
However, you need to consider the overall dimension of the room.
More than likely, you will have the amount of required space and space for all your office equipment.
What kind of desk you will be using?
Your space requirement will vary widely, depending on the kind of desk you will be using.
Writing Desk
If you are using a writing desk, then its size will vary from 20 inches to 30 inches in length and around 24 inches wide.
This will fit in perfectly within the space guidelines that we have provided previously.
Computer Desks
The size of a computer desk varies from 29 to 30 inches and the most common dimension that you will get are 4 ft, 5 ft, and 6 ft.
Also, mostly they are around 2 – 3 ft deep.
Depending on this…your space requirement changes as you will have to have a space of at least 1 foot on both sides of the desk.
In other words, it restricts your desk choices by the amount of space that is available to you.
L-Shaped Desks
This is another variation of the common computer desks and is generally bigger in their overall dimensions.
It generally starts from 44 inches and goes up to 93 inches on one side.
So, that means to fit in the desk you will need around 14 sq. ft to 61 sq. ft, plus the space around the desk.
Executive Desk
The smallest standard size of an executive desk is 60″ X 30″.
So, if you are planning to use one of these, you need an office space that is around 7 ft by 5 ft.
Any smaller than these dimensions and your dream of using an executive office desk for your home office will be shattered.
The space requirement will exponentially increase if you are using an L-shaped executive desk.
Credenza Desk
These are also, bigger units and has a huge space requirement.
If you are using one of these, you would need at least an 8 ft X 6 ft office space.
Also, you will need a clean wall of similar width to fit in the wall unit.
Corner Desk
These are smaller units and the minimum space requirement for this is around 4 ft.
So, it is well within the guidelines that we have provided above.
Floating Desks
Floating desks start from 4 ft and goes up to 6 ft.
So, your space requirement will be somewhere within 6 ft to 8 ft.
What kind of chair you will be using?
This may not be a huge problem as it will be placed near to your desk.
However, you should at least 12 inches of free space behind your chair.
This will help you ease in and out of the chair.
Any other furniture requirements?
Your space requirement will greatly vary depending on the type of work you do.
If you are a blogger like me, your space requirement is minimal. Anywhere, you can fit your laptop, you can call that your office.
But if you are a lawyer or someone who has frequent client visits, you may need some additional chairs to be placed in from of your desk.
This effectively increases your width requirement by almost 50%.
Also, if you like to have a sofa arrangement in your home office for your client visits then your space requirements will be almost tripled.
So, when deciding on the amount of space you need, you need to think through the following types of furniture:
Additional Chairs
Sofa
Coffee Table
Book Shelf
File Cabinet
Any big equipment
Sofa Cum Bed – For therapists
Separate work desk – For professionals like Architects or designers
Any plants
Any separate studio setup
The number of monitors you will be using.
Floor Lights
Number of occupants of the workspace
Most of us will be happy to have a private workspace.
However, many times this is not the case. You may be sharing the same workspace with your spouse or any other family member.
When selecting your office space size, keep this in mind as well.
If you are using multiple desks then you need to allow an ample amount of space to move around without hitting each other or the furniture.
Also, check if you both can combine your space required to have an overall lesser space utilization.
Conclusion
Although you can get away by allocating a very amount of space for your home office, careful planning is required.
You should think at least two steps ahead, in case you need to expand your home office.
If you need to frequently allocate more space and have to hunt for it in your home, then you need to go back to your initial plan and do a thorough review.
Being said that, no matter of planning can foolproof the future, so, do what is best at this point in time.
References
Hill, E. Jeffrey, Maria Ferris, and Vjollca Märtinson. "Does it matter where you work? A comparison of how three work venues (traditional office, virtual office, and home office) influence aspects of work and personal/family life." Journal of Vocational Behavior 63.2 (2003): 220-241.
https://www.houseplanshelper.com/small-home-office-design.html
https://www.houzz.com/discussions/2349995/small-home-office-dimensions
https://www.roomsketcher.com/blog/home-office-design/
https://www.bizfilings.com/toolkit/research-topics/managing-your-taxes/federal-taxes/business-use-size-of-space-determine-home-office-deduction-amount
Related Posts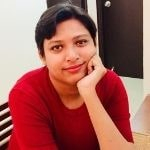 Latest posts by Madhusree Basu
(see all)