[aff_disclosure]
Your sedentary lifestyle is catching up on you. You want to break that but how? You are working for 8-10 hours a day and are at your desk all the time. Stepping out for walking from time to time also seems unreasonable. You need a solution that can handle your dual monitors…enter the standing desk converter…
But which one should you choose? They seem so expensive and you don't want to blow a small fortune on this. Well, you don't have to…there are very good options when on a budget and you will not have to compromise on the quality.
We found some good options and have provided the list below. However, we think ABOX Electric Powered Lifting Standing Desk Converter is one of the best standing desk converter under $200. It takes away the manual effort completely and will last you for a long time.
If you like to check some other options, we have provided some more choices in this budget-friendly category. Please read on…
10 Top Standing Desk Converter under $200
If you are in a hurry and just want to get a list of the best under $200 standing desk converter, then here you go. We have sorted them alphabetically:
Buyers guide
Mechanism
This is the single most important decision that you make as this will impact your day to day activity. There are primarily two types of mechanism present.
Mechanical
You expand the platform manually either with the help of a lever(s) or hand. This will require a significant amount of force from your side when the monitor(s) is placed on top of it. Although most of the mechanical ones come with spring action, you will have to put in some effort to use it.
However, in the price range of $100-$300, you will mostly get mechanical ones.
Electrical
In these kinds of converting desk, you will have a push button at the side of the unit. You can move the entire platform up and down with the push of a button. This makes it easy to move as you will not have to put much effort.
We have described one such in the review section below.
Height
This is the maximum height to which this desk expands. This will be more critical if you are of a taller height. Many of these desks have a limited height of around 16″. This is not at all sufficient if you are that tall and will pose some ergonomic challenges as you will have to bend your head to have a proper viewing angle.
Also, height is also important when the unit is fully collapsed. Your monitor will sit at a higher height than usual. If you are of shorter height, your chair adjustment will be more to be comfortable with your desk.
Another important thing to consider is, most of us get dressed for our office, even home office, and may be used to wearing heels. Our heels sizes change, virtually every day. So, we may have to adjust the height accordingly. So more height adjustments are possible, the better.
Size
This is entirely dependent on the number of monitors you will be using. The single one will be adjusted on a 32″ platform whereas, if you use dual monitors, you will have to use 36″ for comfort. However, the size will also be dependent on the space that is available to you.
If you have a space crunch, then 32″ maybe our ideal choice.
Material
There are many kinds of material that are present in a converter desk. Most commonly you will see particle board, plastic, and metal.
In this price range, most of the time, the top platforms are particle boards of varying thickness or plastic. The frame is made from metal. Sometimes you will get bamboo.
However, metal will be far more durable than any other and will provide a lot of stability to the converter.
Otherwise, you may have to deal with a lot of wobbles and the possibility of your converter getting overturned.
Weight Capacity
It is important to stick to the weight capacity that this riser is capable of. Most of them will support a weight of around 33lbs which is sufficient for two big monitors.
If you have to use three monitors, then the weight capacity should go up proportionately. Keep in mind that, if you will be using monitor arms, that weight also needs to be considered when choosing the standing desk converter.
Assembly
This is also a very personal choice. I'm very lazy when it comes to assembling something.
It will lie around for weeks before I'll put it together. So, my personal preference will be a fully assembled unit for immediate plug and play.
However, if you are more of a 'DIYer' then you can go for something that needs a bit of assembling. Although, most of the units come 90% assembled. You will just have to attach the keyboard tray which hardly takes 10-15 min.
So, if that is your thing, you can go ahead and order something like that however, please know that that will provide you with no additional price benefit. So, you may as well save this extra effort.
Warranty
This is kind of a deal-breaker. If your vendor is not providing a good warranty then you should not go ahead with your purchase.
Why?
Well, there are two reasons for that. First of all, if a manufacturer doesn't stand behind his own product, then it tells something about the quality of the product.
Secondly, if something gets broken after the purchase, you will be left holding the bag. That means you will have to spend more money to fix the product or you will have to entirely scrap that and go for a new one.
Budget
Your budget will be the last deciding factor on which desk converter to go for. One thing to remember is, you will get a lot of great options in this price range.
Also, if you go up in price, it doesn't mean that you will get an excellent one. So, while deciding, keep the above guidelines in mind and you will be able to pick a really good one for under $200.
Detailed Review
AboveTEK Compact Solid Aluminum Computer Riser
This desk riser is a no-frills attached desk riser and has a very clean design. It is a strong piece of equipment that will let your sit and stand as per your need.
It is capable of handling a weight of around 40lbs. which is sufficient for most monitors.
The total area that you will need is 30.1″ X 20.1″ although the company maintains that the surface area is 30″X20″. Then again, in the actual product dimension, it is maintained that the dimensions are 30.1″X 20.1″ X2.2″.
When fully extended, the overall desk height becomes 16.9″. In other words, this desk riser can go from 2.2″ ~ 16.9″ with the help of the smooth air assist lever.
One thing I didn't like is the height of this desk when compressed fully. Since it is 2.2″ from the actual table surface, it is very problematic to use the keyboard.
You can keep the keyboard on the table, then again, you will need a really big table to work comfortably like this. Most of us won't have that luxury of space.
As a quick fix, you can use a pillow under your butt to improve the height in case you don't have an adjustable chair or if the chair is not comfortable even after adjusting.
Another drawback is, you won't be able to use it with dual monitors. You will either have to use a laptop or and a monitor or smaller monitors. If you are using something like the 27″ monitors, then there is not much space for another one.
Also, I don't like the price point at which it is available now because at that price point you will get a lot more choices.
However, overall this is a decent option and is available in two colors.
Pros
The aluminum body makes it waterproof and washable.
Strong and sturdy body.
Air-pump for easy expansion and contraction.
The surface area is enough for a laptop and monitor.
Can be set up without someone's help or tools.
Cost-effective.
Smaller footprint.
Cons
No retractable shelf for keyboard
Too high when you sit, have to adjust with a pillow.
Not ergonomically good when sitting.
Some users said that the lever to expand it gets stuck and needs to be released manually.
Pushing down may seem to take some effort.
ABOX Electric Powered Lifting Standing Desk Converter
Product image
If you don't like to manually use a lever to expand and collapse your desk converter, ABOX can be a good option. It is powered by electricity and has a button on the right-hand side, to lift the whole thing up smoothly and fast.
You can extend it to the level you need to and also collapse it down easily in the same way. Also, there is a USB charging port just beside the lifting button and can be used to charge your phone.
This is a big piece of furniture and the top surface is around 33.5″ X 20″. It has a groove at the front, to hold your tab or phone.
Apart from electrical movement, another big improvement that you will see in ABOX is that it comes with a detachable keyboard tray.
Although this is an improvement, you may not want to detach it every time you collapse the converter.
This means that this will still have the same ergonomics issues that you have faced in the above one.
You will have to somehow increase your effective seating height to level up with the increased level of the keyboard.
Other than that, this is a good table riser and can even be used for dual monitors if you want to.
Pros
The electric motor is very powerful and virtually noiseless.
It comes with a charging port.
Automatic operation through a push button and no manual effort needed.
Comes with a suction cup and has an anti-overturning design.
Detachable keyboard shelf makes this a two shelf design.
Can be used for dual monitors.
It has pads everywhere so it will not damage your table surface.
It moves straight up and down keeping your monitor's distance the same from you at every level.
Very stable and sturdy design. The top doesn't shake during typing.
Can take a load of around 44lbs.
Cons
The tray doesn't slide under the top shelf, so you will not have much of an ergonomic advantage.
You will need to fix up 6 screws for the initial setup. Not completely plug and play.
A huge piece of furniture.
Some users mentioned that if the USB port is faulty, you may have to replace it yourself. So if before purchasing make sure the vendor's return policy is favorable.
Defy Desk Ergonomic Table Stand
This desk table is similar to the above mentioned AboveTEK. It has a solid clean design and is built on a sturdy steel frame. For a smoothing expanding and collapsing operation, you have the pneumatic air cylinder.
You can use this table with a dual monitor as it has an overall dimension of 32″ X 22″. However, to perfectly, the maximum size of the monitors should be 21″. If you try to fit a TV screen and a 27″ monitor, you may have kept the smaller ones at the front and the bigger ones at back, not an ideal placement according to me.
Also, the company claims that they expand their collapsible tables 10,000 times to ensure you have long durability although I did not find any test results published for that.
This desk stand is suitable for people from 5 ft height to 6.3 ft and can expand to up to 16.9 inches.
Also, it is capable of supporting a total weight of 30 lbs and doesn't wobble.
One big disadvantage is that you cannot carry it with you to places as it is huge in both size and weight. It weighs around 30lbs, so taking it to your workplace may not be ideal.
Another good thing is that this comes with a 100% money-back guarantee…
If you plan to purchase this, keep in mind one more thing…this is manually operated equipment. Although this is your typical plug and play, you have to put manual effort every time you try to expand or collapse it.
That means, when you put your monitors on top of the surface, it will add more load, and hence it will feel heavier to lift it up or down.
Also, when completely collapsed, it sits at a height of 2.5″ from the actual table, and you are at the same disadvantage as you are with AboveTEK.
Pros
Durable steel base for sturdiness.
Have rubber buffers at the end touching your table. So no fear of touching the surface and ruining it.
Can accommodate dual monitors of around 21″ size.
Completely plug and play. It will take hardly 5-min to get started with.
Detachable keyboard shelf makes this a two shelf design.
Can support a lot of weight and around 30lbs.
Cons
Same ergonomic disadvantage as the previous two models.
The pneumatic airlift may not be as durable.
If you have to set up your workstation every day and tear it down, then this will be a bit challenging with this one as it weighs around 30lbs, and carrying it around is no fun.
EleTab Height Adjustable Standing Desk Sit to Stand Gas Spring Riser
If you like to have a lot of features at a really good price, EleTab Standing Converter may be a good option. It has a good amount of surface area with two shelves. The top shelf measures around 37.4″ X 18.1″ whereas the keyboard tray has a dimension of 11.8″ X 37.3″.
Due to the amount of space available on the top shelf, you can fit two monitors easily on it.
The top shelf sits around 6.1″ from the surface of the table. Since it has an extended keyboard tray, you can use that when completely collapsed. However, some mentioned that the keyboard tray doesn't sit completely flat on the table.
Also, if you have long fingers, you may be touching the bottom of the top shelf as the space between the keyboard shelf and the top shelf is tight.
Movement of the top shelf can be done through the gas spring mechanism and has lifting handles. Since the holding grooves are on both sides, it is easier to pick up than the previous models.
Also, it comes with the built-in monitor compatibility where it has the pre-set installation hole. It also has a phone or tablet holder so that you can have all your needs in one place.
Although the shelves are smooth and have a hard resin like finish, beneath there is MDF which is not known for its durability.
Also, the thickness of these plyboards is not as much as I would like them to be. At this comparable price, you should be able to get a thicker shelf.
Pros
Big surface area to work with.
The top board is smooth like a laminated surface.
Can accommodate dual monitors of around 25″ size.
Has gas spring transition mechanism which is easy to use.
33lbs weight capacity and is enough for most office purposes.
Cons
It wobbles a bit and can feel annoying.
If you use a wrist pad with your keyboard, its visibility is a bit covered by the top shelf.
The keyboard shelf sits too high. Although you can adjust the two Allen screws on each side of the keyboard tray to increase this distance, the stability of the tray will be reduced and you have to be extra careful.
FEZIBO Standing Desk Converter 36 inches Sit Stand Desk
FEZIBO standing desk is not much different than the other mechanical desk converts available.
You will not have to deal with the issue of a crunched keyboard gap between the top shelf and the keyboard shelf. However, you will have to deal with a lack of space on the keyboard shelf itself.
The space is decent for any standard size keyboard…but if you are trying to fit in a bigger one and want to have some space for your mouse, you may not have enough space for that.
You will be able to lift it using the fast gas spring and it can go from 5.3″ to 20.4″.
Also, the top surface is big and has a surface area of 36.2″ W X 15.7″ D. It is sufficient to fit in 2 monitors and can support a total load of around 33 lbs.
Overall, this converter weighs around 33.71lbs and because of its huge dimensions, you cannot carry it along.
Pros
A good amount of workspace.
10-years of warranty.
Powerful lifting system for an easy transition.
Can fit two 22″ monitors easily.
33lbs weight capacity which is sufficient for monitors.
Cons
Space on the keyboard tray is not enough for a large keyboard or a mouse and a keyboard.
If you have a shorter stature like 5 ft and have shorter hands, you will have a hard time lifting it and may have to take help from someone.
The fully extended height is not sufficient for above 6ft people.
Halter Stand Up Desk Converter for Laptop, Dual Monitor
This is also a manual stand-up desk, but one important difference is that it comes fully assembled. This is great for you if you just want to start using it and don't want to bring out your metal tools and mechanic hat.
The levers use gas spring technology which is great for raising it and bringing it down. They have a smooth operation and don't need a lot of effort from the users.
You will have a two-tier design with this Halter's desk and can accommodate two monitors easily.
For easy cord management, it has a plastic grommet which in my opinion doesn't let you utilize the space as efficiently due to its position.
It can sustain a load of around 20kgs and can accommodate dual monitors easily.
At the lowest position, the height of the shelf is around 5″, and when fully extended its height is 16.14″.
It comes with a warranty of 1 year which is not as much as the brands are offering.
It is available in two colors, black, and cherry. For me, the black one looks more elegant than the cherry one which looks plasticky.
You may have to deal with a minor wobble when typing and if you have a habit of writing, you will not find enough space once you place the monitors on top. Also, the keyboard could have been wide.
What I like about this unit is that it is very sturdy and durable. This is the major point. If you are planning to keep this for years and don't want to keep changing, then you can use this one.
It will be able to handle rough handling and still come out strong.
Pros
The frame is heavy and made of metal which makes it durable.
It moves straight up and down and doesn't have that cantilever movement.
Levers on both sides for easy operation.
Lots of height adjustments possible.
Doesn't require a lot of strength for transition and anyone can do it.
Comes completely assembled for a full plug and play.
Cons
The keyboard tray is not wide enough and a standard size mouse pad needs to be fitted sideways.
The plastic grommet for cord management of the right side doesn't let you utilize this space till the right end.
Levers are centrally located on the sides rather than closer to the front.
Mount-It! Standing Desk Converter with Bonus Dual Monitor Mount Included
Mount-it! has done a fairly decent job with this converter desk. Also, they have included a dual monitor mount with this one.
It comes with all the usual bells and whistles with some minor differences between the rest of the products that we have reviewed till now.
On the top surface, it has a small holder for your pen or sorts. You can fit in a smartphone but it is not possible to fit in your tab or something like that.
The main focus of this product is the additional monitor mount that comes with it. They are VESA compliant (75mmX75mm and 100mmX100mm) and has a total load capacity of 33lbs which should be sufficient to mount two 27″ monitors.
Also, everything is needed to fix that mount to your desk comes with it and also, this has cable management in place.
Another important difference with the other manual converter desks is that it comes with 8 height settings and a gas spring lever to adjust.
Overall you will get a decent desk converter at a reasonable price, plus one dual monitor mount stand which is a great addition as many eventually buy a monitor mount to fix their monitors.
Pros
The frame is durable and the finish looks smooth and clean.
The monitor mounts are VESA compatible.
A big top surface of 36″ X 22.5″ making it compatible with 27″ dual monitors.
8 total height adjustments possible with the help of a gas spring lever.
You will get a smooth adjustment from 6.25″ to 16.5″.
Cons
Preset heights are restrictive.
You can only adjust the angle of the monitors to a certain degree.
Insufficient keyboard tray space for bigger keyboards.
Rocelco 32″ Height Adjustable Standing Desk Converter
Rocelo 32″ doesn't have a lot of restrictions like it's other manual peers. Although this is somewhat smaller in size, it has some good features that make it quite an improvement over the others a.k.a I liked it…
First of all, it has a retractable keyboard shelf. This is a huge plus according to me. The other ones have a detachable keyboard shelf. It is really annoying and cumbersome to use them when collapsed as they sit at least a couple of inches above the table. So, if you are trying to fix your sedentary lifestyle, with this, potentially you are generating an ergonomic issue.
However, if you have a retractable one…you can slide this in, and you can work as usual by placing the keyboard on the table.
So, the problems that are described above are solved.
Another important thing is when fully expanded it rises to around 18″ whereas, most of them raises till 16.9″ or so. This is a much better height for someone who is taller.
It has a grommet hole to take care of your cable management and you can place two monitors of up to 24″ on the mini table.
Pros
No assembly required. You can use it straight out of the box.
Retractable keyboard for better ergonomics when collapsed.
Sturdy and has a normal footprint.
Rises more than the other ones in this group.
Smooth adjustments.
Cons
Keyboard space is less even in this one.
Barely meets the weight requirement for dual monitors.
Laminate finish may not be liked by many.
Seville Classics airLIFT Height Adjustable Stand Up Desk Converter/Riser – Great for taller people
Seville Classics airLIFT desk riser is another good option, for a manual desk. It has an overall dimension of 35.43″ W X 35.8″ D and an initial height of 6.2″ expandable to 19.1″ which is more than the desk risers provided above.
It will be much more comfortable for tall users and can support a weight of around 33 lbs. You can fit in dual monitors of almost any size including Apple desktops and ultra-wide monitors.
Also, this desk converter is ANSI/BIFMA X5. 5 compliant and which is the standard for commercial desks and tables and also includes tests for monitor arms.
In short, you will get a quality product at a decent price.
Seville Classics airLIFT also has a limited 3-year manufacturer's coverage against manufacturing defects in material or workmanship.
It is a simple plug-and-play product and doesn't require any assembly. You can start using it the moment it arrives.
For a smooth lift, it comes with two airlift levers that can be squeezed to lift the entire platform.
It has a tablet and smartphone slot at the front. You can easily charge it through the bottom easily.
If the keyboard was retractable, it would have been perfect in my opinion.
Pros
Easy to operate and fits even huge dual monitors.
Good build quality.
Good for taller people as this raises more than the average table converters.
Comes in 3 different colors.
Dual levers for smooth adjustments.
Cons
Heavier than the other products described here.
The keyboard tray is not retractable.
With two monitors onboard, may need someone's help to lift the platform.
VIVO Stand Up Height Adjustable 32 inch Desk Riser
Last but not least is the VIVO stand up height adjuster. This is a more budget-friendly option and is more suitable for people who can do away with a single laptop or a monitor like developers or managers.
This is a 32″ riser that can fit a decent sized monitor and a laptop or only a big monitor.
Although it is advertised as a 32″ table, it is actually 31.5″ and the keyboard tray is around 31.3″. However, it can be lifted to a huge height from 4.5″ to 20″ which is beneficial for people who are above 6ft.
It comes with Lift Assist and has the innovative touch height locking mechanism and it elevates straight upwards.
This unit also comes with a 3-year manufacturer's warranty which you may avail of if needed.
It has a total weight capacity of 33 lbs which is what the others on this list are providing also, the keyboard doesn't retract and hence you have the same ergonomic challenges as the other ones.
Other than that, this is a good piece of equipment that will get the job done and at a lower cost.
Pros
More budget-friendly.
Raises a lot which is definitely a plus for taller users.
Can be used for dual monitors, if the monitors are around 22″.
Available in 4 colors.
Comes with a grommet opening.
Cons
The keyboard tray is fixed although you can remove it.
It wobbles when you type.
You may have to push more if you want to adjust it to the maximum height.
FAQs
What should I look for in a standing desk converter?
When choosing a standing desk converter you need to look at the type, height, material, budget, etc. We have provided a detailed explanation of every small detail that you need to check while selecting a desk riser in your buyers' guide section so we won't be repeating that here. You can check that to get a clear idea of the selection parameters.
How do you convert a desk to a standing desk?
To convert a desk into a standing desk, you have two options. One, you can reengineer your old desk or you can get a sit/stand converter.
Both have their pros and cons. The main problem that I've with the first option is that you will have to know your way around your tools. Also, you have a chance of running the table completely. In other words, you will end up investing a lot of time and energy into a project with no outcome.
Also, if this happens you will have to spend double as you will have to get a desk plus a desk converter.
For me, I'll go for the second option which is easier and less resource-intensive. Just purchase a sit/stand converter and you will convert your desk into a standing desk in no time. Additionally, you will save yourself a lot of hassle, energy, time, and money as you will get fairly decent desks at a very budget-friendly option.
Are standing desks worth the money?
No, standing desks are not worth the money in my opinion at least the ones that come with limitations like non-retractable keyboards. These kinds of standing desks create new ergonomic challenges that you will have to deal with.
However, if you can get something that will not introduce such challenges once you have introduced them into your environment, then this is a good option to do away with your sedentary lifestyle.
Are standing desks healthy?
Yes, standing desks are healthy. However, they are not the solution to all your sedentary lifestyle problems. If chosen incorrectly, they will introduce a whole new set of issues.
Also, if you are using your standing desk to reduce sitting, then it will be great. However, if it is a complete replacement for a normal desk may not be good.
Why?
Essentially this means that you will be working while standing for almost 8-10 hours. This may burn more calories, but will put a lot of additional load on your legs and feet causing new problems. Ask any nurse they will tell you what it's like to be standing all day.
So what should you do?
Go for a middle ground, where you stand for some time and sit for some time. The standing desk converter provides you with the flexibility if you are thinking of switching to standing.
How much should I spend on a standing desk?
You should spend around $200-$400 on a standing desk. However, you can go up to $2000 depending on your budget. Anything below that is cheaply made and will not last you long. Also, you will have to deal with a lot of wobbles and will be risking your monitors or other expensive gadgets by placing them on them.
Also, the price will vary depending on the type of standing desk you are going for. If you are going for a completely electrical one, it will cost you more, whereas, in general, the cost of the mechanical ones are lesser. If you are looking for a cheaper option for an electrical standing desk, go for the ABOX Lifting desk. We have provided a detailed review of this one above.
How big should your standing desk be?
A standing desk should be at least 32″ wide and 22″ deep. However, the width and depth of a standing desk depend completely on the user's preference and the type of gadgets she uses. If you use two big monitors then you would need at least 34″ width. This will proportionately increase or decrease if you use three monitors or a laptop.
References
Weatherson, Katie A., Kelly B. Wunderlich, and Guy E. Faulkner. "Impact of a low-cost standing desk on reducing workplace sitting (StandUP UBC): A randomised controlled trial." Applied ergonomics 82 (2020): 102951.
Naccarato, C. Why You Need to Transition to a Standing Desk, Now!.
Failing, John. "Adjustable Height Standing Desk." U.S. Patent Application No. 14/992,814.
Related Posts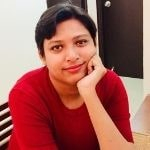 Latest posts by Madhusree Basu
(see all)