Setting up a home office is challenging in itself. But setting up a home office without a desk…Phew! that seems darn impossible. Or is it?
How do I set up a home office without a desk?
To set up a home office without a desk, you need to use any hard surface that is available to you. This surface can be your bed or your floor, or any other surface that can provide you space with a minimum dimension of 24″ by 16″.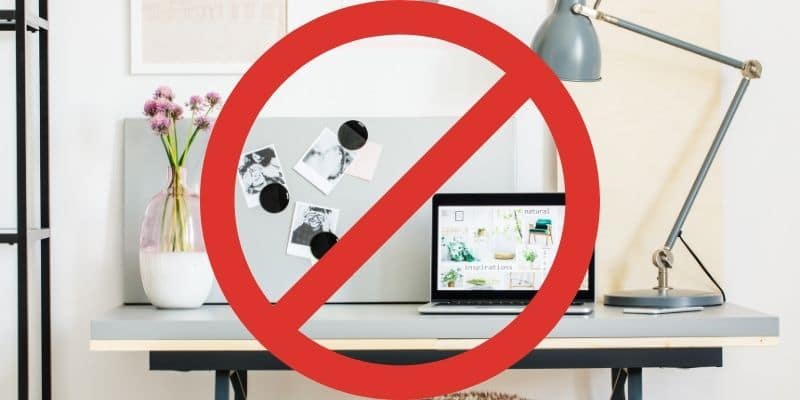 However, although the above is the minimum requirement, that may not be sufficient for some people. So, we have provided you with some situations and probable alternative desk solutions below…
What can you use instead of a desk?
Below is a list of things that you can use instead of a desk for your home office. I'm assuming that you are the one with the single laptop kinds…
Lap Desk
These have become hugely popular in this period of new normal. We got suddenly stuck in our homes with all the family members. This created a huge crunch of space and for many of us, a full-fledged home office desk was out of the question.
Instead, many of us opted for a lap desk. Yes, that literally means, desk on your lap.
In most cases, they will be of size 2ft by 1.4 ft and comes with a coffee holder, phone stand, laptop-incline, and some other stationary holding spaces.
Mostly they are foldable and can be easily stored away after use. Also, they are a very cost-effective solution.
Instead of spending a couple of hundred dollars behind a decent desk, you can spend one-tenth of that money and get one of these…
Here is how they generally look…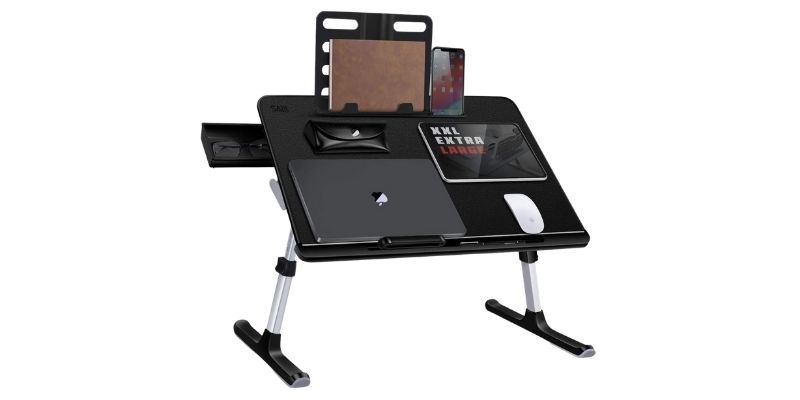 Mobile Laptop Stand
This is another great option if you don't want to use or don't have space for a home office desk.
These laptop stands come with an adjustable spine to suit your needs. Also, since they generally have wheels attached to them you can make them roll to wherever you want.
They have cup holders, laptop-incline, and phone holders along with some other spaces to hold small items.
Price-wise also, they are not heavy on the pocket and will provide you with a great working solution.
Also, most of them can be folded for convenient storage.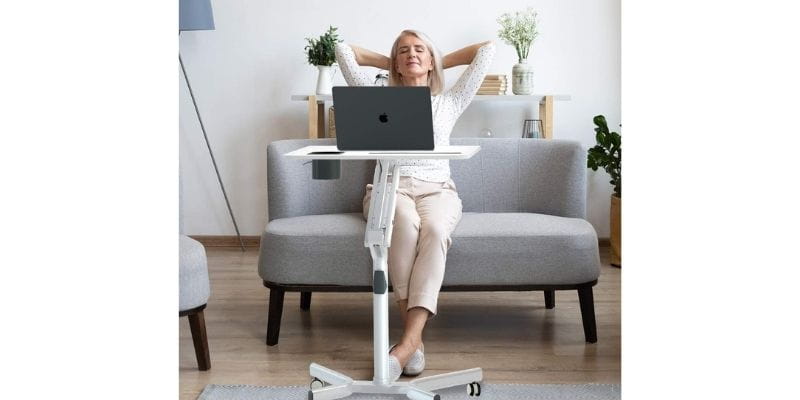 Convert an available piece of wood or metal
If you're averse to spending money but don't mind a one-time additional work, then this solution may be great for you.
However, this can work as an effective solution only if you have the basic materials available at your home.
This is precisely what we did with one of our desks.
I had a pinewood board lying around from my engineering college days. It is a solid piece of wood and can work as a home office desk perfectly.
The only thing needed was some wooden legs. So, we created a crisis cross base for this one and put some dark-colored varnish on it.
Voila! we have the perfect working desk…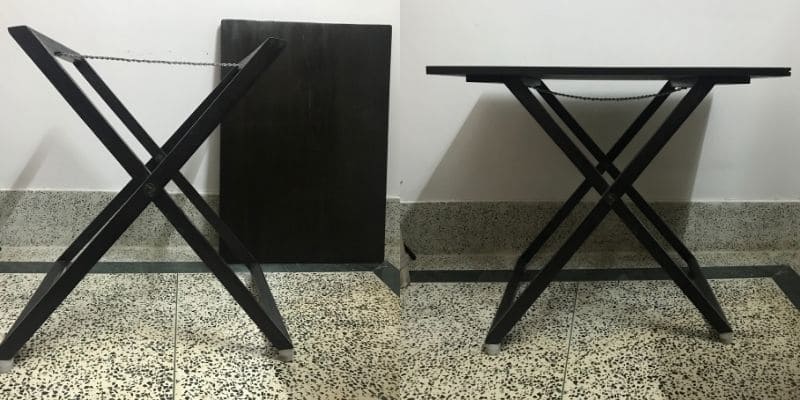 Bed
You may not want to spend money now since this work from home thing is a temporary solution for you.
If that is the case, you may go for the below options…
A bed may be a good place to run your office from.
This is already available to you and setting up your home office is just like waking up. Also, there is no cost involved at all…
However, this is not an ergonomic solution and after some time, your lower back may give up.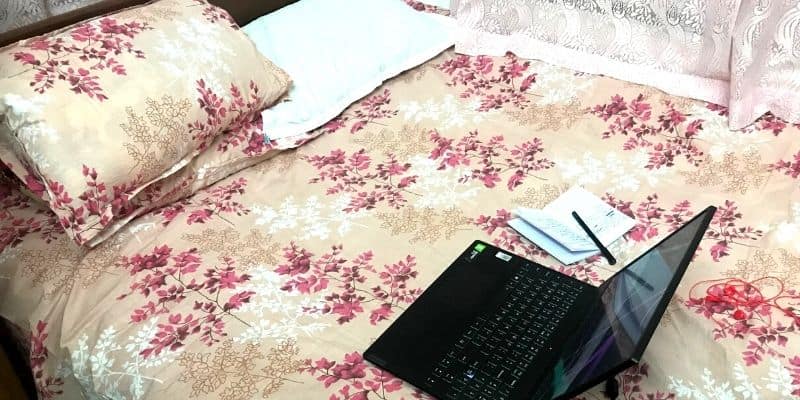 Dining Table
If you don't want to spend money and don't want to set up your office on the bed, you can use your dining table as another great option.
These will be more ergonomic friendly and will provide you with a more stable surface to work with.
Your chances of spilling your coffee or dealing with other such blunders will be minimized.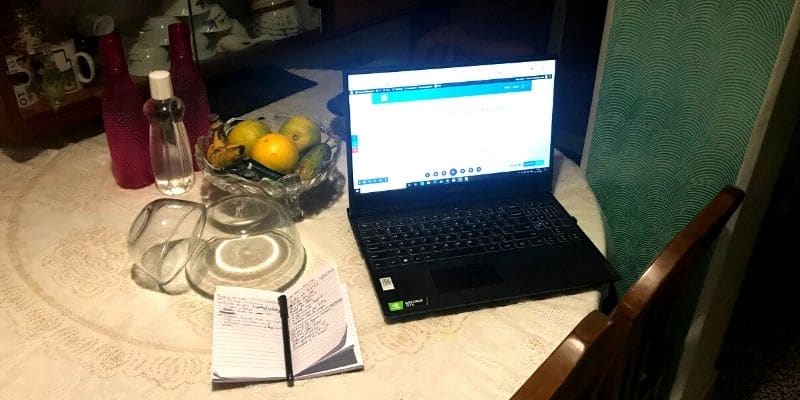 Dressing Table
If you have a dedicated dressing table like the below one, you can convert that to your temporary home office desk.
This one has a higher height than the regular dressing table and can perfectly substitute a desk.
However, in general, dressing tables have a much lesser height. You may have sit on the floor if you want to use them as your desk.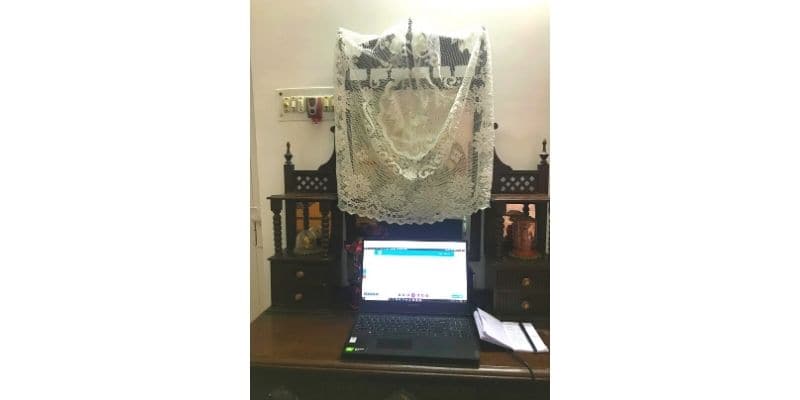 Coffee Table
Another good option as a home office desk can be your coffee table.
This is also easily available and will be a much stabler solution than a bed.
However, if you are someone who types a lot, you may have to sit down on the floor to have more working experience.
Why?
The standard height of a coffee table will be almost half of any of the work desks. So, unless you place yourself at a lower level than them, you may not be able to work easily.
However, that shouldn't be a problem as you can enjoy your work and your cup of coffee from the same space.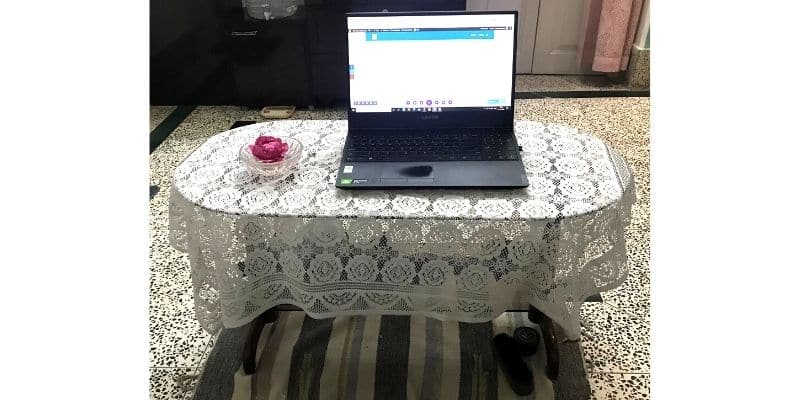 Ironing Table
This is another cost-effective and space-saving solution, provided you already have an ironing table.
It will be cushier as there is a thin layer of padding on the table.
The only problem you may face with this one is the width of the table.
In many cases, the width may not be sufficient for the bigger laptops and may result in a bit of instability.
For smaller ones, that may not be an issue. Also, you may have to use a coffee coaster for your mugs as the cushion may be a bit unstable for it.
Kitchen Table
This may be the most suitable option for people who spends a lot of time in the kitchen, like working mothers or if you are a caregiver.
You can complete your office-related tasks while multitasking as a mother.
Also, the height of the kitchen table is generally at par of a bit more than the work desks.
You can conveniently place your laptop there which is a very sturdy surface.
Floor
This is a good option if you don't have any stable space or you need a highly portable workspace.
You can sit on the floor and place your laptop on your lap and start working.
The base is stable and generally, you will have plenty of space around.
However, it will be better if you can use a rug or a mat underneath you. Otherwise, you may catch a cold, and working like that may not be convenient.
Also, one more thing is, this may not be a good option ergonomically.
Sofa
This is a cushier option than the others. You will feel comfortable at the back and your overall working comfort may increase.
However, this is not an ergonomic solution but nonetheless a workable one.
Can you set up a home office without a desk?
Yes, you can set up your home office without a desk. All you need is a clean surface and some creativity. If you can imagine it, almost any hard surface can be the launchpad for your home office.
References
Golden, Michael. "Work Place Ergonomics: How to Set Up Your Desk."
Gaikar, Vishal. "Create The Best Inspiration Desk Setup." (2020)
11 Ideas for Working Remotely When You Don't Have a Home Office
How To Improve Your Work-From-Home Space When You Don't Have A Desk
How To Work "From Home" Without a Home Office
How To Set Up A Home Office When You Don't Have A Home Office
Related Posts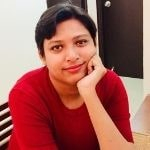 Latest posts by Madhusree Basu
(see all)