[aff_disclosure]
Many of us who are working from home has a requirement for multiple screens. But many of us don't have a desk to cater to this requirement.
Most of the desk will be able to support two monitors, but what if you need 3 or 4 or more? What are the best home office desks for multiple monitors?
We have done a though research and found that Casaottima L Shaped Gaming Desk is a very good option. It's built quality is good and is easy on the pocket.
However, we have provided some more options below that may suit your requirements. Also, we have included the pointers that you should be looking at before picking a new desk.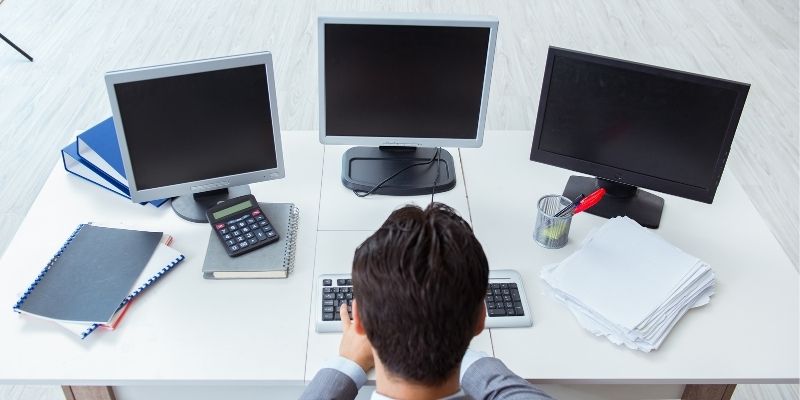 10 Top Office Desk For Multiple Monitors
Below is the list of our recommendations for office desks that are suitable for multiple monitors:
Buyers guide
Kind of desk
If you want to accommodate multiple monitors on a desk, then the first consideration that you should have is the kind of desk that you will be using.
There are primarily, 4 types that will be available for you.
L-shaped desk
Corner Desk
Peninsula
Rectangle
U-shaped
Of these 4 types, L-shaped desks and corner desks are the most versatile. You can accommodate different types of monitor setups starting from a laptop and a monitor to more than 4.
The space requirement of these tables is not as much as a U-shaped or a peninsula which is in general huge.
Rectangle desks can also be a great option but will be comfortable only for up to 3 monitors. If you are going for more than 3, then you will have to go for a stacked approach with the monitor setup.
Height
The standard height of a computer desk is from 28″ to 30″. This will give you a proper sitting posture.
Also, if you are on the taller side, then it's better to go for something which is 30″ or more than that.
Another thing to consider is whether you want a sit/stand desk. If you are going for this kind of desk, then you will have to consider the height of the desk when it is expanded.
Surface area
The amount of surface area you will need on your desk is completely dependent on the kind number of monitors you will be placed on it.
Obviously, 3 monitors will take up more space than 2 monitors and so on and so forth. However, if you are going to use monitor arms to mount them, your space requirement will decrease proportionally.
Also, your space requirement will increase as per the number of gadgets that you will be placed on the desk.
For example, many professional gamers like to place speakers on their desk, or if you are a podcaster you may need to place your microphone and other audio setups on the desk along with the monitors.
Based on your unique requirement the surface area requirement will be determined.
Materials Used
There can be a lot of materials that a computer desk can be made of. Most of the time, it will wood or particleboard and some combination of metal like iron or aluminum.
The tabletop can also be made from plastic. However, if you are selecting something like this, check the heat withstanding capacity of the material. More often than not, we place hot objects like coffee mugs or teacups, or even the laptop gets heated up.
If the material cannot withstand the heat, then it will be a problem that you will have to deal with on a daily basis.
Weight Capacity
The more monitors you will be placing the more should be the weight capacity of your table.
If you are not taking care of that, then over time you will observe that the legs of the table start to bend. Far worse, maybe you finished your office setup and everything comes crashing down.
While deciding on the capacity start by checking the weight of the monitors you will be placed on it. Also, whether you have any plans of expanding your number of monitors in the future.
What I would suggest is, go for something which has a weight supporting capacity of more than the weight of your monitors combined. And by more, I mean, it should be able to accommodate the weight of an additional monitor which is comparable to your heaviest monitor.
Assembly
This may not be a big deal as most of the desks that are available these days come preassembled.
If not, you will take hardly 10-15 min to set it up. You can use your instincts for that…If not just follow their instructions.
I always found that relying on my instinct for these kinds of assembling is way better than following the instructions which are many times confusing.
Special Features
Consider if you need any special features on your computer desk. It can be a cup holder or additional hooks to hand your headphone or wire organizer or anything like that.
Here are the possible special features that you may think about when buying an office desk:
Cupholder.
Hutch.
Cord channels or holes to pull the cord.
Keyboard tray (Retractable or not)
Shelves.
Drawers.
Extended mouse pad (very useful for pro gamers)
Hooks to hand small pieces of stuff like headphones.
This is not an exhaustive list, you may select add anything else that you may require on a day-to-day basis.
Also, decide on what is an absolute must and what are good to have features. This will help you to streamline and prioritize during selection.
Electrical Operation
This feature is mainly applicable to sit/stand desks. With all the monitors on the desk, the top of the table will be very heavy to lift.
So, it becomes motor-operated, it will be easier to manage. If you are going for a sit/stand desk, give this feature a special preference. This will make your life so much easier.
Budget
You can spend thousands on your computer desk, but that doesn't mean you should.
You can get very good desks for under $300 that are very sturdy and will last you for years.
Again, this depends on the budget you are using and a desk is something that you will use every day.
Also, you may not want something that looks very basic and wants to go for something that expresses your personal style or you may want to match it up with your other furniture or decor.
In that case, the budget may not be a constraint for you. However, if you are someone who just needs a desk and doesn't want to spend a small fortune on the desk, maybe far happier with a basic one.
It's a very personal choice, and choose what suits your budget and style.
Detailed Review
Casaottima: L Shaped Gaming Desk, 51″ Home Office Desk – Good for 2 monitors and up
This is a L shaped gaming desk which will be able to accommodate up to 3-monitors. It is a sturdy unit and will not take much of a manual labor to set it up.
To improve on the sturdiness, the legs come in a crisscross pattern or X-pattern as they say it. This pattern will provide you with more stability than a rectangular frame. Also, it adds to the oomph factor of the desk.
The stand of this desk is made of heavy duty powder coated steel which ensures that they will be durable.
The top of the desk is made from MDF or Medium Density Fiberboard which is waterproof, anti-scratch, and easy to clean. However, most of us have a love-hate relationship with MDFs. Some are fine with it whereas others absolutely hate it. So, it will completely depend on your preference. Personally, I'm fine with them.
Also, it comes with a detachable wide monitor shelf that can be fixed and removed at will.
Overall, you will be able to accommodate 3 monitors easily on this one, however, the space may not be enough for 4 or more monitors.
Pros
Can accommodate a user height of over 6 feet.
Large working space.
Easy to assemble.
Can accommodate up to 3 monitors easily.
Lightweight.
Stylish to look at.
Pocket-friendly.
Cons
The monitor shelf may get in the way of work.
MDF boards are not long-lasting in general.
There will be some amount of wobble.
CubiCubi L-Shaped Desk Computer Corner Desk – Good for 3 monitors
CubiCubi is also an l-shaped desk that is capable of accomodating up to three monitors. Like the previous one, the stand of this desk is made of metal, making it sturdy and durable.
The top of this desk is made from particleboard and comes in two colors. One is a black-colored finish and the other one is a wooden finish.
Both of the looks are very stylish and will suit your taste.
This one also as a detachable monitor shelf that is great placing a monitor. You can fix it up on either side and can use it with ease.
Conveniencewise, this desk has more features that will help you to remain organized more easily. For example, it has a drawer to keep your office essentials organized. Also, it comes with a metal hook to hang your headphones or other essential.
If you have a space constraint these features comes a bit handy and with minimal effort you can have a very clean office space.
Also, you can use them for various purposes like a computer desk, study desk or a gaming desk.
Pros
Modern elegant design.
Can accommodate tall people easily.
Comes with drawers and a metal hook for easy organization.
Detachable shelf.
Good for multiple monitors or multi-monitor and laptop/desktop setup.
Can be easily accommodated in a corner.
Easy on pocket.
Cons
The tabletop could have been thicker.
A bit wobbly.
Assembly instructions are not very clear.
Elephance 59″ Large L Shaped Desk Corner Computer Desk – Good for 4 monitors
This desk is bigger than the previous two mentioned. It has a overall dimension of (59″+59″) L x 23.6″ W x 29.5″ H.
This makes a good amount of space for even 4 monitors. Also, it has a weight capacity of up to 450 lbs. This is good enough to support the weight of multiple monitors.
The frame is made from steel which the company claims to be thicker. Also at the corners, the frame is reinforced with those metal triangular pieces to make this table more sturdier.
However, the tabletop is made from particleboard of P2 class which has a thickness of 15 mm.
This is not as thick as I would like it, but it is something you can work with. Also, due to these little shavings here and there, these tables are relatively cheaper.
The footrest here comes as a footrest bar and you can keep your feet there for keeping them relaxed.
The beveled corner not only makes this stylish to look at, this also make it safer to be kept in your home.
This is also a multipurpose table and can be used for gaming, studying or as a computer desk.
Pros
Big working space.
Can accommodate up to 4 monitors.
Durable.
Stylish and safe.
Humanized design with footrest bar.
Lightweight.
Value for money.
Cons
Minimalist desk with no additional organization feature.
Feels a bit wobbly for gaming.
Assembling can be a bit tricky.
Foxemart L Shaped Desk Home Office Desk with Round Corner
This is also an L-shaped desk that can be used to accommodate multiple monitors. However, they are a bit smaller than the previous one but has an isometric design.
The table top has a E1 MDF and has a sturdy metal fame. To make this table more sturdy, triangular joints has been used.
It can support a weight of up to 220lbs. which is sufficient for 3 monitors. However, do not overload it as you may start seeing some bending of the legs or it braking down completely after sometime.
This is a no-frills desk and doesn't come with a host of features. However, it has a footrest bar which is having triangular design. This ensures that the table is provided more sturdiness while humanizing the design.
However, it does have a detachable shelf that can be used to hold a monitor or a small printer.
Also, it comes in three different colors to match your style and its clean design is very aesthetically pleasing.
Pros
Metal frame for durability.
Minimalist design.
Scratch resistant melamine finish and water-proof.
Can be used as a multipurpose desk.
Budget friendly.
Cons
A bit wobbly.
The table top may breakdown before the frame.
Assembling can take bit of an effort.
It's_Organized 60 Inch Gaming Computer Desk with Large Carbon Fiber Surface – best home office desk for two monitors
This is a multi-monitor supporting desk but
is mainly for professional gaming. It has a lot of features that gamers will find useful. However, due to these same features any other kind of work will also get easy, especially organizing.
It has an extended mousepad, handle rack, cup holder, headphone hook, electric socket box and cable manager.
All these features are very useful and will be very convinient to keep your office space organized.
Also, due to the added resistance that the mousepad provides, it will provide your monitors extra stability and will reduce the chances of any monitor accidents.
This is a 60″ desk and can accommodate 2 monitors very easily. However, if you have medium size monitors, it can accommodate 3. However, there will be a bit of a space crunch.
Also, the materials used to make this desk are a bit different than the previous ones.
The tabletop is made from P2PB material and this carbon fiber material is strong, waterproof, and non-slip.
There is one F1 balance bar on either side of the desk. This make the whole structure more stable.
This makes it excellent in case of durability. Also, the sturdy Z-frame structure provides stability and the much-needed style statement to this desk.
Pros
Lots of additional features to help you stay organized and productive.
Good leg space.
Very stylish.
Easy to assemble.
Cons
Pricier than the rest of the lot.
Bigger space requirement.
Kinsal 55-inch Gaming Desk Speed Series Computer Desk
This is not something that can accommodate more than two monitors. If you want to go for 3 monitors then you will have to use a monitor arm for this.
Being said that, this is a very sturdy desk and will serve you well. Originally being a gaming desk, it comes with all the usual frills of a gaming desk, like a big mousepad, a cup holder, a headphone hook, and a hidden storage space.
The top of the desk is made from particleboard which may be a letdown for some of the users. Many of us would have expected carbon fiber from the looks of it.
However, this is waterproof and not swell up due to water absorption. Also, the frame is made from metal which makes it durable and its height can be adjusted with the adjustable foot pads.
It has a max weight capacity of around 500 lbs. and comes with Allen key/L wrench and screwdriver. You can quickly assemble using the tools provided with the kit.
It has F1 balance bar for better stability and comes with two cable management grommet that can manage up to 5 cables each.
Pros
Sturdy, stylish, and edgy to look at.
A host of extra features.
A good amount of space for comfortable use.
Good leg space.
Can support a lot of weight.
Cons
Particleboard top.
Assembling instructions are not great.
Mr IRONSTONE L-Shaped Desk 50.8″ Computer Corner Desk
This is another L-shaped desk in this list and much like the previous ones, it is capable of accommodating multiple monitors easily.
Either side of the table is 50.8″ from the corner and is 18.2″ in depth. This makes them decently spacious for any kind of office work, be it working on the computer or writing something in your notebook.
Also, like others, it comes with a detachable shelf which can be fixed upon either side or the table.
The tabletop is made from P2 MDF and has a double-layer desktop surface that protects the board from wearing down. This also makes the table surface waterproof, anti-slip and anti-scratch.
This is a lightweight table and comes with a metal frame for durability. The frame has a crisscross at the side and this X-Shape support ensures that you have good stability and durability.
Pros
Spacious design.
Easy to assemble.
Level adjusting screws.
Good ergonomics.
Cons
Wobbles a bit.
One person desk.
Mr IRONSTONE Large Gaming Desk 63″ W x 32″ D Home Office Computer Table
Unlike the previous one, this home office computer table is actually a gaming desk. However, not only for gaming, you can use this desk for almost any kind of office work.
This is a big table and will be able to accommodate 3 monitors. However, you may have to go for a slight v-shape.
What makes this table a bit different from the others is that, it has a lot of thoughtful features that are built-in.
For example, the edges of this table are not sharp and are rounded. This will not put that sharp pressure on your hand and will keep you comfortable. Also, the table has an ergonomic curve and will let you place your hands at ease if needed.
The tabletop is made from MDF but is laminated with PVC. This makes it anti-scratch and and anti-skid.
It also has some of the features that we have come to expect out of a gaming table like a cupholder, a headphone hook. Also, it has 3 holes for effective cable mangement.
It can support a weight of up to 110lbs. or 50kg and is sufficient for most of our office uses.
The frame and the legs of this table is made from metal and to provide additional stability, this table has R-shaped leg frame.
You will have fast and easy installation and the toolkit included contains all the essential tools that you may need.
Pros
Spacious and sturdy.
Multipurpose desk.
Good weight capacity.
Humanized curved edges.
Cons
May leave a bit of gap in the middle after assembling.
Built quality could have been better.
SHW L-Shape Corner Desk Computer Gaming Desk Table
This is a no-frills L-shaped desk which will get the job done. It is capable of supporting multiple monitors and is suited for many types of office work.
The apex of this desk is beveled and you will not get accidentally hurt. From apex, both the sides have 51 inches and this is pretty much a standard for these kinds of desks.
What you will not find in this desk is the removable shelf. It doesn't have the removable shelf and probably this is one of the reasons for its lower price.
This desk looks very stylish as the top is made from tempered glass. This gives it exceptional and elegant look.
The frame has a Z-shaped design and is made from metal for added durability.
Pros
Sturdy and beautiful.
Can accommodate 3 monitors easily.
Easy to assemble.
Comes with adjustable screws.
Cons
May wobble.
Must use a mousepad due to slipperiness of the glass.
Soges 63 inches Gaming Desk Computer Gamer Desk Large Computer Desk Workstation Office PC Desk
Last but not the least, is our Soges 63 inches gaming desk. Although it is a gaming desk, it is very useful even for a small home office with multiple monitor requirement.
Since it is a 63 inches desk, you will be able to accommodate 3 monitors of medium sizes and 2 large sized monitors.
If you use smaller monitors, you can even set up 4 monitors on this desk. However, for me, stacking up 4 monitors on two rows is more convenient than 1 row.
It comes with a full cover mouse pad, that is waterproof and easy to maintain. Also, it has additional features like a headset hook, cup holder, 2 cable management holes, and USB holder.
The metal legs are in shape of a K that provides additional stability to this desk. Also the top part of the K acts a F1 balance and provides additional support to the table.
Pros
Spacious and can accommodate most of your office needs.
Stylish to look at.
Sturdy frame.
Good load capacity.
Carbon fiber top.
Cons
Bigger footprint.
A bit pricey.
FAQs
How big of a desk do I need for 2 monitors?
A desk which has a minimum width of 50 inches and depth of 25 inches will suit for 2 monitors. However, if you go up to 55″ and 29″ depth then that will be ideal. Check the buyer's guide section to decide on any other parameters. Also, for more information read this article how big table for 2 monitors?
Is a 47 inch desk big enough?
No, 47 inches desk is not big enough especially if you plan to use multiple monitors. You will have to literally overlap the screens of the monitors which can have 24″ minimum size. You can however, use a monitor arm, but then again that's an additional expense that you have to be happy with.
As stated earlier, nothing smaller than 50 inches will work for your multiple monitors.
Also, price and quality wise there is not much difference between a 50″ and a 47″. You maximum savings will be around $20.
However, if you are still not convinced, go for this 50.8″ one. Price wise it is similar to a 47″ and also, the quality is neat.
How big of a desk do I need for 3 monitors?
You would need a desk that has a minimum size of 55″ by 29″. Anything lesser than that will be two crunched. However, if you already have a desk and don't want to spend more here are the ways to accommodate 3 monitors on a small desk.
References
Hutchings, Dugald Ralph. Making multiple monitors more manageable. Diss. Georgia Institute of Technology, 2006.
Grudin, Jonathan. "Primary tasks and peripheral awareness: A field study of multiple monitor use." (1999).
Elsbach, K.D. and Bechky, B.A., 2007. It's more than a desk: Working smarter through leveraged office design. California management review, 49(2), pp.80-101.
Related Posts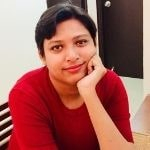 Latest posts by Madhusree Basu
(see all)