[aff_disclosure]
They are so convenient. One of them and you whole home office is organized and ready to go.
However, L-desks are pricey and many times we have to just hope and wish we had one. If you are also in the wishing and hoping mode, here are the best L-shaped desks under $100.
If you are in a hurry, go for the GreenForest L-shaped Desk. It is of good quality and comes with some additional features. If you have some time, just go over the rest of the candidates in the list to select the most suited option for you.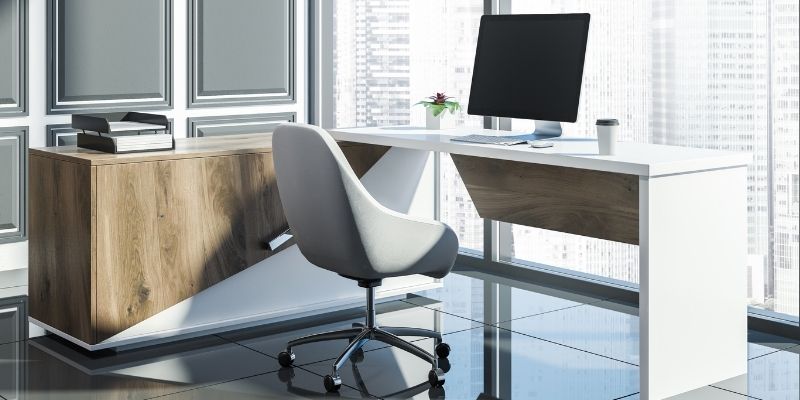 Best L-Shaped Desks Under $100
Detailed Review
GreenForest L Shaped Desk – Movable Shelf, Rustic Brown
This is an L-shaped desk unit that is around 58″ in overall length. This is a sturdy piece of furniture and is capable of accommodating up to 3 monitors and a printer. Also, it has a movable shelf that can be attached to any location of the desk.
This is a reversible desk and the top consists of 3 pieces. Two sides and the rounded corner as the center piece of the desk.
One of the most cool thing about this desk is that, you can separate it into two desks and can use them as so. However, one desk will be smaller than the other as this is not an isometric desk.
It comes with a CPU stand so your CPU will not eat up space on the desk. However, this is a pretty basic desk and doesn't have much frills attached to it.
They are available in two sizes of 58″ X 44″ and 64″ X 50″ and will not take much time for assembly.
Pros
Stylish looking with 4″ 'X' legs for support.
Good price point.
Excellent for multiple monitors.
Capable of supporting at least 300 lbs.
Waterproof.
Cons
Adjusting the CPU on the stand can be a bit tricky.
The quality of the bolts could have been better.
Assembly instructions are not very clear.
Amyove Computer Desk, Wood Color
This is a very elegant looking desk and gives you that delicate yet sturdy vibe. If your office décor is light colored, then this will perfectly suit your subtle taste.
This is an isometric desk, which means that the sides are of the same length. For this desk also, the corner piece is rounded. It will not be a cause of any accidents even if placed at the center of the room.
It has a short monitor shelf and you can accommodate a single monitor there. However, this desk is capable of taking the load of three monitors and has plenty of leg space.
This is very easy to install and you will be up and using it within an hour. The instructions are clear and the parts are marked on the diagram for the ease of assembly.
The overall assembled size of this desk is 50.6 X 50.6 X 36.4 inches.
Pros
Very affordable.
Stylish.
Perfect to set-up a corner home office.
Lightweight.
Movable shelf.
Cons
Shakes a bit.
No CPU stand.
SHW L-Shape Corner Desk Computer Gaming Desk Table, Espresso
This corner desk has a very clean look. It doesn't have anything extra attached to it. A combination of the broader and thinner frame along with an espresso finish top provides this desk a very edgy and modern look.
This is an isometric desk and both its right arm and left arm are of equal length.
It comes with footrest bar and allows for comfort and relaxation for your feet. It has adjustable glides that helps you to balance on uneven floors.
The assembly instructions are included in the package along with the hardware that is required to assemble it.
Although the top of this desk is made from particle wood it is capable of supporting up to three monitors simultaneously.
The Z-shaped frame made from steel makes it durable and can be used long term.
Pros
Lot of space to work with.
Easy to assemble.
Lightweight.
Affordable.
Cons
Particleboard top may show early signs of wear and tear.
It wobbles a bit.
VANERGY L-Shaped Desk, Corner Desk, Writing Table
This L-shaped desk is a perfect desk for smaller spaces. Not only it is affordable, it is capable of taking care of all your home office needs.
It will perfectly sit at a corner and will be able to support 3 monitors at a time. Also, it is spacious enough to accommodate your laptop, printer, keyboard, etc.
This is also an isometric desk and has two equal length arms. The depth of the table top is 18.1 inches and is enough for any kind of monitor needs.
It is anti-skidding, anti-scratch, and easy to clean. Also, the metal frame with X-shaped legs provides a sturdy enough work area. There is some wobble and you cannot totally eliminate it. However, that is not distracting.
With this one you can easily setup your office desk at a corner of your home and that will be your own little space for getting all creative.
One turnoff may be the particle board table top…other than that this is a good desk which comes at an affordable price.
Pros
Adjustable foot screws.
E1 grade board which is environment-friendly.
Comes with a monitor stand.
Carbon-steel frame for durability.
Cons
Wobbles a bit.
It may not be very durable.
Installation instructions could have been clearer.
COTUBLR Corner Side L-Shaped Desk, Round Fillet Edge, SOHO, Gaming (Rustic Brown)
This desk has a very retro look and feel. The tabletop is made from MDF and is water-resistant and scratch-resistant. It is ideal for small offices and home offices.
Also, it will perfectly sit in a corner where you can set up your entire home office. It comes with an additional monitor stand which will help you to keep your desk organized.
This is a no-frills desk and you have a footrest bar to relax your feet while working. Also, the metal structure makes it sturdy and long-lasting.
If you have uneven floor and want to level this table, you have leveling footpads. This will ensure that you have a stable working environment which is almost wobble free (some wobbling will be there).
This table doesn't come pre-assembled and you will have to put some effort to assemble it. However, all the things that is required to assemble it like, two Allen wrenches are included in the package.
Although I like this one the best, you will have a lot of color options to choose from.
Pros
Suitable for multiple environments like SOHO, dorm, etc.
Capable of accommodating multiple monitors.
Max weight capacity is 220 lbs.
Easy to assemble.
Cons
Parts are not labeled.
It may not be for offices with carpet.
The tabletop material is not thick.
Her Majesty L Shaped Home Office Corner Desk with Keyboard Tray, Toughened Glass, Black
This is the first L-shaped desk in the list which has glass at the top. Don't be disheartened though. This is a toughed glass and is capable of supporting multiple monitors together.
However, it doesn't have an additional monitor shelf. This could be because it needs to be either welded to the frame or you risk breaking the glass.
Also, adding another shelf to this table design will shoot up the cost and you will have to pay more for it.
However, with the black glass on the black frame make this one look very elegant and edgy. Also, it has some additional components like keyboard tray which can accommodate your keyboard.
This table comes with a CPU stand where you can put your computer tower and it will be out of your way while working.
It also has resting bars, however, it may not be as comfortable as the other ones. The frame is made of metal and will last you for a long time.
Pros
Durable.
Very stylish.
Tough scratch-resistant.
Leveling screws.
Easy to clean.
Keyboard tray.
Cons
Restrictive design. You cannot interchange due to the placement of the keyboard tray.
Lesser weight capacity of 110 lbs.
Assembling can be a bit challenging.
LUFEIYA L Shaped Desk White Corner Computer Desks, White, 51 inches
This is a very distinctive looking L-desk with sticking contrast of white and black. The top of this desk is of white color and the legs are of metal frame.
It comes with a removable monitor stand and the corner that joins both the sides is rounded.
At both ends of the table the legs are double metal bars and extra fastening ribs for better stability.
This one also comes with adjustable non-slip leg pads which not only levels your desk on an uneven floor, but also stops it from scratching your floor and reducing noises when moving.
Although this is very stylish to look at, this table still doesn't come any other frills like sliding keyboards, cup holders, etc.
It is capable of supporting up to three monitors at a time, is water proof and is scratch resistant.
This is a reversible L-desk and you can assemble the monitor stand in left or right side. Overall, this is a spacious desk which will help you to setup your SOHO easily.
Pros
Easy to assemble.
2 Years Warranty.
Stylish.
Affordable.
Cons
Due to the particle board, durability may be a bit less.
Not for gaming or professional gamers.
MOLANEPHY Office Home Desk
This is another home office desk that can do the trick. Also, from a pricing stand-point it is much less than a $100. After some research, I found that, this may be a relatively new company in the market. So, you are getting it for a steal.
This is a spacious desk and both the sides are of the same length. However, on one side there is a monitor stand that will is easily reversible.
This is an anti-skidding and anti-scratch desk which is really easy to clean. Also, you can level this desk using the adjustable leveling foot pads.
Setting up this desk is also very easy and all the tools that are required for assembling it is included in the box.
This desk is sturdy enough to hold 2-3 computers and you won't feel crowded when you do so.
Pros
Fast assembly.
Reinforced legs.
Reversible L-desk.
Available in multiple colors.
Cons
It wobbles.
The top board feels a bit flimsy.
OffiClever L Shaped Corner Glass Desk With Keyboard Tray, Black
Another heart stealer for me at least. This is a completely black desk which has a 7 mm toughened glass on the top.
The corner of the table has adjustable non-slip mat, that makes it scratch resistant. This is spacious enough to hold multiple computers or your other work gadets.
This table is very easy to clean as the top part is glass and has painted steel frame. To clean them, you just need a damp cloth and some wiping.
You can easily set this one up by following the instructions that comes with the kit. Also, the required tools are included in the box.
You should be up and working in about 15 mins.
Another piece of equipment that comes with this table is the CPU stand. You can place the CPU on this stand and need not worry about keeping it on the table. This way, it will not get in the way of your work or movement and you can keep your desk more organized.
Pros
Stylish.
Easy to clean.
Toughened glass.
Cons
Additional precaution as glass in there.
Payhere reversible L-Shaped Computer Corner Desk, Clear and Transparent Toughed Glass
This is another L-desk that will cost you less than $100. It is a glass desk and the top is made from clear glass and frame is made from metal.
Although this is a corner desk, essentially there are two separate desks that are placed together to create this L-desk.
Also, both the sides are of same length and is completely reversible.
This model comes with a separate keyboard tray and a CPU stand. You can attach this keyboard tray to any side of the desk as per your convenience.
The best place to keep the CPU stand is behind the junction of these two desks. This way it will be out of your way when working and you will not get bothered by it when moving from side to side. Trust me, if you have to keep thinking about not hitting it while moving, it will get pretty annoying very fast.
Also, since this is a structure made from glass and metal, cleaning it is also is very easy. Also, with minimal care, it will keep looking new for years to come.
Pros
Can support around 200lbs.
Suitable for multiple computers.
Can be used as two stand-alone desks.
Cons
Wobbles a bit.
The return policy is not very flexible.
FAQs
Are l-shaped desks good?
Yeah L-shaped desks are good. The will provide you with plenty of space to organize your entire SOHO in one place.
It will also be beneficial if you are someone who has multiple careers with different requirements, for example, you are a coder and a Youtuber or a podcaster. You can have your coding set up on one side and Youtube or podcast setup on another side.
Or if you are into printing business, you can have your computer setup at one side and printer and other equipment on the other side.
Also, if you have two working members under the same roof with a little space to spare for your office, then one desk can accommodate two people. We had this kind of a setup, and when one of my older companies got a sudden influx of people, then adjusted one new person in the center. So, the L-desk was at that time accomodated three people.
What I mean to say is, L-desk is very versatile and you will have a lot of space in a very efficient and organized way. This is the main reason why most of the companies have them as their desk in the cubicle setup. (Yep! I'm remembering those days…)
Is a corner desk worth it?
Yes, a corner desk is worth it. If you like to stay organized in a space efficient way, then you will love the corner desks.
This is one of the most versatile desks and will help you have all kinds of office setups. Another thing is, if you have some employees working for you and have a dedicated working space for them, you can use these desks not only to stay organized, but your overall space requirement will also go down.
And a corner desk which can accommodate two people simultaneously will cost you less than two full-fledged table. So, cost-wise also, you will save up some money.
Do corner desk save space?
Yes, corner desks save space. You are essentially accommodating twice the thing on a single desk. Since the other side is perpendicular, the place that would have been otherwise wasted is being put to good use.
Where should I put my l-shaped desk?
You can put the l-shaped desk anywhere you want, however, you should measure the limbs of the desk and keep some more space between the wall and the desk.
References
Elsbach, K. D., & Bechky, B. A. (2007). It's more than a desk: Working smarter through leveraged office design. California management review, 49(2), 80-101.
Unit, S. M. R., Table, S. C., Desk, T. E., Desk, T. M., Desk, D. E., Desk, P. E., … & Banquet, S. B. (1999). 8. Home Office.
Related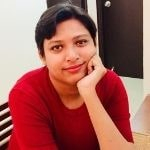 Latest posts by Madhusree Basu
(see all)